Dressing for Success: The Impact of Custom Trade Show Table Covers on Brand Presence
Trade shows are a dynamic platform for businesses to showcase their products, services, and brand identity. In this competitive landscape, making a memorable and impactful impression is crucial to stand out. That's where custom trade show table covers come into play.
These versatile and eye-catching accessories have evolved beyond mere decorations, becoming powerful tools to enhance your brand presence and leave a lasting mark at trade shows. Here, we will review how custom table covers can improve brand awareness.
The First Impression: Setting the Stage with Custom Trade Show Table Covers
When attendees approach your booth, they first notice your table setup. Custom trade show table covers are pivotal in setting the stage for your brand's presentation. With vibrant colors, engaging designs, and your logo prominently displayed, these covers instantly capture attention and create a professional and inviting atmosphere.
Beyond the Basics: The Evolution of Trade Show Table Covers
Table covers have been used since ancient civilizations, where simple fabrics were draped for protection. In medieval times, they became symbols of wealth with intricate designs. The 20th century saw a shift to accessible materials like vinyl. However, cloth covers remained popular for formal occasions.
In modern times, trade shows and events have transformed table covers into powerful branding tools. Custom trade show table covers emerged, allowing businesses to showcase logos and colors. Today, table covers are not just practical; they're essential to making a visual impact and conveying brand identity. This evolution highlights their journey from functional basics to integral elements of decoration and branding.
The Power of Branding: Reinforcing Identity and Recognition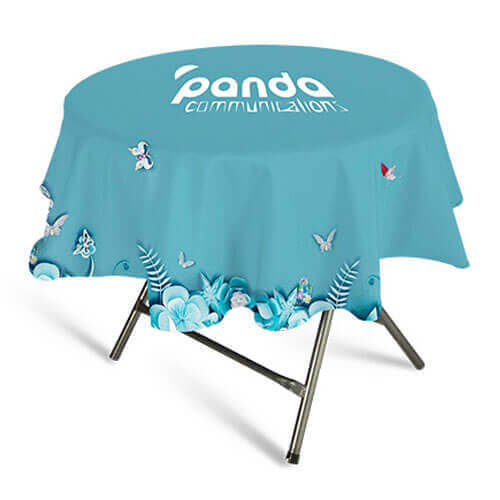 Branding is about creating a consistent image that resonates with your target audience. Custom trade show table covers with logos significantly reinforce your brand's identity and facilitate recognition. As attendees move through the bustling trade show floor, your logo and brand colors on your table cover become familiar landmarks, guiding them back to your booth.
Stand Out in the Crowd: Differentiating with Custom Table Covers
The challenge lies in standing out and making a lasting impression in a sea of booths and displays. Custom printed trade show table covers provide a unique opportunity to differentiate your brand. A well-designed cover exudes professionalism and communicates that your business pays attention to detail, setting you apart from the competition.
Practicality Meets Aesthetics: Functionality of Trade Show Table Covers
Beyond aesthetics, custom trade show table covers offer practical benefits:
They discreetly hide storage and create a clean and organized presentation.
Moreover, they provide valuable space to showcase your products and promotional materials and engage in meaningful conversations with potential clients.
Table covers also protect your table from spills and damage.
Lastly, they are reusable, offering great value for money.
Making a Lasting Impact: Customization and Engaging Graphics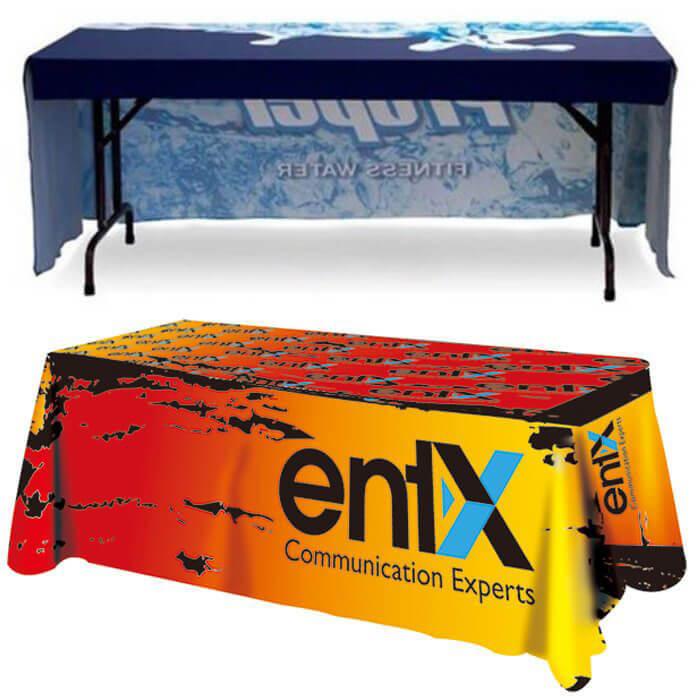 Engaging graphics and captivating designs on your custom trade show table covers help you tell your brand's story effectively. Whether showcasing your products, highlighting your company's values, or conveying your unique selling proposition, the visuals on your table cover make a significant impact and leave a lasting memory in visitors' minds.
Remember that using your brand's colors and patterns will make your company more visible and recognizable.
Versatility and Reusability: The Economical Choice
As previously mentioned, table covers are reusable, and you can use them at multiple events, making them an economical choice for businesses. Whether it's a conference, trade show, or exhibition, custom table covers will always make the right impression.
Moreover, if your business is attending several events in a row or during the same period, you don't need to buy more than one set of table covers and accessories. Easily transport your table covers from one event to the next, saving time and money. This versatility makes them a cost-effective choice that provides consistent brand exposure over time.
Ready To Take It To The Next Level? Embellish Your Table Covers With Promotion Choice
Custom trade show table covers are an efficient way of making a powerful statement at events and reinforcing brand identity. These versatile tools offer practical benefits, protection against spills and damage, and cost savings. Moreover, they create a professional setting for visitors with vibrant colors, bold graphics, and captivating designs; these covers will always be the show's star.
It's time to ensure your business stands out from the crowd and grabs the attention it deserves! Promotion Choice has various trade show table covers with customizable options to meet your needs. Choose from different sizes and colors, add any logo or design that reflects your brand's identity, and make your mark at the next trade show!
Are you ready to take it to the next level? Contact us today for more information about our custom trade show table covers!