Personalized Custom Koozies
Posted on October 23, 2019 under
Budget Friendly Promo Items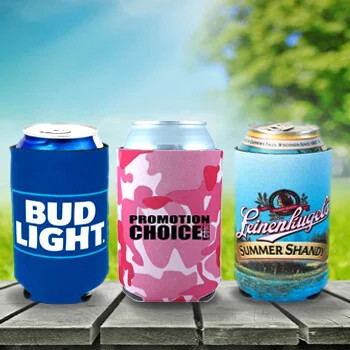 Koozies are used primarily for holding cold beverages. In addition to keeping chilled beverages from getting warm, they also prevent your hands and other surfaces getting wet by the condensation from the chilled bottles. Naturally, koozies are used extensively in parties and all types of social gatherings. Available in a wide range of attractive colors, styles, designs, and sizes, you have the freedom to select your koozies as per your requirements and taste.
Please remember that koozies are not only meant to keep your drinks cool. Personalized koozies have now emerged as an excellent alternative for businesses to promote their brand, event, corporate message, and much more. If you have still not used koozies for your business, you are certainly missing out on a cost-effective promotional tool.
If your business is planning an event, consider using custom koozies for your guests. The best part about koozies is they can be easily customized, allowing you the freedom to add anything that you want your prospective customers to know about your business. Brand name, logo, promotional slogans, and much more can be added to your custom designed koozies. By providing customized beer koozies, you can make sure that your message reaches out to many people within a very short time, without spending a fortune.
Promotional koozies can also be extremely useful for businesses while organizing any other type of public event to be attended by a bunch of people. Outdoor games, local parades, trade shows, and office picnics are great occasions for getting your message across to many people with the help of custom made koozies. These days, more and more politicians are using this promotional tool in their political campaigns to publicize their visions.
Custom can koozies can also be used as wedding favors that will be remembered for a long time by the recipients. You can personalize them as per the wedding theme and interest. Include the names of the bride and groom, and make them even more attractive by adding images of wedding rings, champagne glasses, or two doves. It is also possible to use koozies to create a children's party theme that will surely please your little ones. Make your koozies more attractive to the kids by adding fun images or messages.
Regardless of what your message is, koozies can help engrave your vision in the minds of the recipients. They are durable, and hence, can be used over and over again. If you are a business owner, it is a good idea to purchase these koozies in a bulk and tailor them exactly the way you want. You can add photos, clip art, custom text, or anything else you can imagine to make your custom koozie stand out from the rest.
At a time when the traditional marketing tools are losing their competitive edge, it is extremely important for business to be creative in their marketing efforts. With promotional koozies, you are only limited by your own imagination. Making things even better, these are amongst the most inexpensive promotional tools one can think of.