What is a Stadium Cup?
Posted on December 18, 2019 under
Budget Friendly Promo Items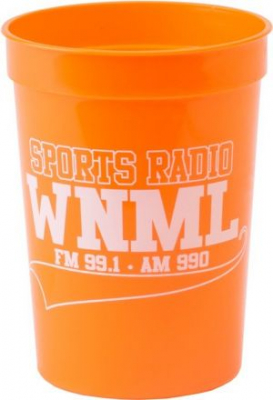 Stadium cups take their name from the stadium where they were first noticed, though they have more general use in recent times. They are those handle less plastic cups you see spectators drinking beer or soda out of at an organized soccer game. The ones sold along with drinks just outside the playing pitch, normally brandishing promotional messages on them.
Stadium cups are a little more valuable than regular disposable cups, and cheaper if you consider their bulk cost over the initial cost to drink the beverage. Aside from being more attractive in their different color designs, stadium cups have a longer lifespan, or at-least were designed with slightly longer reuse potentials than regular plastic disposable cups, which have just the one-time usefulness. It is for this purpose they wear lovely custom and promotional designs and logos on them, the same reason people find them attractive enough to take them home after the game for many more uses before they are disposed of if they ever are.
Important to note that these little pieces as promotional products have always managed to reach their advertising goals. These days such customized stadium cups can be ordered from many places. Most of them make it into many homes along with their messages, attracting a bit more notice than calculated. In advertising, a bit more visibility usually implies more sales, more patronage, and it is for this particular purpose, the stadium cups culture has continued to enjoy support.
Stadium cups come in different colors, shapes, and sizes, and usually based on their intended purpose.
When you have souvenirs intended, stadium cups can be customized to bear may be a celebrant's name or some vital information about an event. You can find such customized cups at birthday and marriage ceremonies, even at group conventions and end of year meetings used to serve cocktails or Chapman drinks, even beers. They are also useful to deliver a punch line message at campaign launches like the AIDS Is Real' campaign, for instance, or the Green Initiative, where they are used to serve refreshments, then later gathered and recycled.
Stadium cups can also be supplied with promotional reasons in mind. These particular cups come in larger sizes. Their size is made big solely to attract more people, make a huge promotional reach, and increase growth for the brand seeking yield.
How stadium cups actually serve in marketing solutions
Let's consider the stadium cup getting into the user's hand, and how its new owner can begin to value it. A fashion company, yours, wants to do a unique outdoor fashion festival, with a single runway is large, maybe even in a stadium, and guests are expected early. You might consider using stadium cups bearing the festival's theme or any other catchphrases you had planned out. It gets into a hand drinking beer from it. The hand owner gets into a car after the day's displays, and finishing the last swallow, dumps the cup in the car, and drives off. The cup should have been dumped in the trash but for the catchy message written on it- 'Go Green' or 'Fast & Furious' or something. So he keeps the cup a bit longer. The man picked up friends on his way home, friends who also react to the cup's message. Their reaction drops them at the foot of some creative idea. They agreed to develop it. Now for sure, no one is going to do away with that cup. They do some research, meet up with the festival organizers, and weeks later, a decent deal is struck. This is one example trailing the stadium cup's journey from a mere idea into an agent for that particular business deal. Many more cases have been recorded; I'm sure because it must serve a huge advantage to send your stadium cups as promotional items into people's lives.
Advertising specialties of stadium cups
In addition to being such great promotional products, and living a longer lifespan compared to disposable cups, stadium cups are also dishwasher friendly. They come wrinkle-resistant. Their designs might fade over time, but they can take a proper washing like any other cup.
Also, their size can ensure satisfaction in volumes of whatever beverage they contain. Some designs come with multiple color selections up to 20 different color grades. Some custom stadium cups designs offer thermal and color-changing benefits to the user, changing color when the drink contained in them is hot, or when it is cold. A few others come with lids. All of them, highly promotional.
As such, you can order a stadium cup for any of the reasons - for their color, shape, or size, for promotional uses, for mood reasons, or any other reason you can think up to have such useful plastic stadium cups. Only consider using the ideal one to suit the purpose, then sit back and watch them work for you.