What are the Differences Between a Portfolio and a Padfolio?
Posted on October 29, 2018 under
Product Guides
Essentially, when going out for a business meeting, you are tempted to pick between a few options to pack your paraphernalia in. If you were a man for example, you don't have the luxury of going around with a purse and you can't put your papers in your wallet. That leaves you with a few other choices; a briefcase, portfolios or padfolios.
Briefcases represents the most formal kind of baggage that you can take with you on a business trip. While portfolios are quite popular, padfolios are a little lesser well known. Because padfolios are as well known, many people don't know the differences between padfolios vs portfolios. There are also a number of key differences between them and this article serves to inform you of some of their distinguishing factors so you can make a well informed decision on which one will best suit your needs -- or if you are buying these as customized giveaways -- your clients' needs.
What is a Portfolio?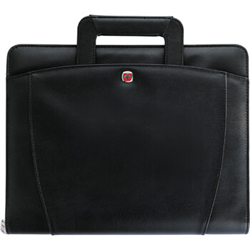 Exterior of a Portfolio
A portfolio is a nice, cool derivative of a briefcase. Some portfolios may possess handles making it appear like a mini or compact briefcase. A portfolio will usually have a zipper, are smaller in size than briefcases, and like the padfolios, will contain several compartments or pockets for storage of important documents or even tecnology products like small laptops or tablets.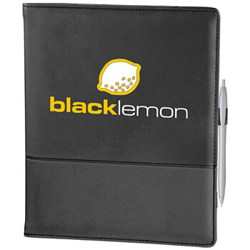 Exterior of a Padfolio
What is a Padfolio?
A padfolio is slightly different from portfolios in a few ways. Padfolios do not typically have zippers, and instead, they may have buckles to help fasten or secure its contents. Padfolios will allow you hold a good amount of papers and documents easily, as they are usually a little thicker than portfolios.
Padfolios vs Portfolios - What the Difference is
Much of the difference that exists between a portfolio and a padfolio is what is on the inside and not the outside. With portfolios, there is a space on a side for a legal pad or a stenographic pad. The other side is partitioned into different sections; each to hold a particular item. The partition may hold different office items; from key cards to pen and smaller jotting pads.
Padfolios are a simpler derivative of portfolios. They are built to be more streamlined and simple, clean, and more minimalistic design with the main purpose of holding papers, documents, and cards and a pen or two. Like portfolios, one side is almost always used to store a large legal notepad, while the other side could be designed to house other materials from more compartments to store even more papers and documents or even a small tablet.

| | |
| --- | --- |
| The inside of a Portfolio | The inside of a Padfolio |
The exterior of padfolios vs portfolios
Both portfolios and padfolios are made on the exterior with similar materials ranging from leather, to composite leather, to vinyl, or even just plastic. With this in mind, it maybe easy to get confused when shopping for the appropriate solution for your professional needs. Sometimes, you don't even know what works best for you.
What works for who?
If you are a salesperson who wants to make a marketing pitch to a customer and you want tomake a good impression, your best bet maybe a padfolio. A padfolio in this case allows you to organize your meeting well – with a notepad on the side for taking notes, and a sufficienntly large pocket on the other side for storing business cards, post-it notes, and catalogs or brochures for handing out during your presentations.
If you are a visual artist who needs to be on the go, a portfolio will come in very handy for you. With ample space and secure zippers, your tools like brushes, pencils, and pens will never fall out and get lost. Bringing these tools with you allows you to sketch while on the road or take important notes. A large compartment on the side further allows you to bring your tablet or a small laptop to make turn on your graphics program like Adobe Illustrator on the go.
Taking it a step further
There is nothing that beats having your own custom padfolio or custom portfolio. At PromotionChoice.com, we have a whole variety of different padfolios and portfolios in a whole range of colors and designs. With our variety, we give you the full control over making decisions even small details like the number of pockets and compartments, as well as the size and color that you want your custom portfolio or custom padfolio to come in. At the end of the day, your portfolio or padfolio can ensure that you step out in style, while staying well equipped with all your working tools and needs while being mobile. As giveaways, these promotional portfolios or padfolios are extremely handy, and will be frequently used and kept with them for many years.