Types of Balloons & What the Difference is
Posted on October 22, 2018 under
Product Guides
If you are shopping for balloons for a party or event, it will be helpful to know what the different types of balloons are being offered in the market today, so you can buy exactly what you need for your party or marketing purposes. Balloons are one of the most effective marketing giveaways you can get. They are eye catching, loved by kids and adults alike, and has a very large imprint area where your logo or message can be visible even at large distances.
To best illustrate the main types of balloons and how they're different from each other, it is best to tell you the features of each balloon type. The 3 main types of party balloons are latex balloons, mylar balloons and cloudbuster balloons.
3 Main Types of Balloons
1) Latex Balloons
The most common type of balloons is of course the latex balloons. These balloons inflate to an oval shape, are made of recyclable latex, and can be easily customized by screen printing your logo, text, or artwork design. They are usually available in size range from 9 inches to 18 inches. The most common and popular size is the 11" personalized latex balloons, followed by the 9" ones.
In general, latex balloons take helium well – usually lasting anywhere from 10 hours to 14 hours of float time, although various factors, in particular, how the custom latex balloons are sealed, or how much helium is used are huge factor in determining float time. If cost is a concern for you, do keep in mind that the smaller the balloon, the less helium you will need to use.
Latex balloons are also very flexible in the sense that they can be used without helium. Using balloon accessories is extremely popular, because you don't need to purchase or rent helium tanks, which can save you money. You can fill latex balloons up with regular air by using an air inflator, a foot pump, or hand inflator. You can then easily tie the balloons onto the balloon cups for sticks and then affix the balloon cups onto either a 16" or 24" cello stick. See a couple pictures below to get an idea of how a latex balloons tied onto a balloon cup and stick may looks like.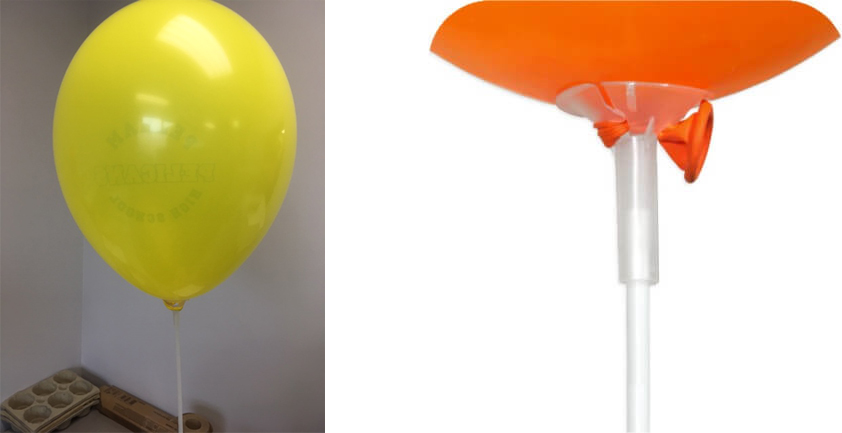 Any imprinted latex balloons can also be used with a universal valve. These valves can only be used with latex balloons, and it makes inflating them much easier. You just stick it straight to the nozzle of the inflation device and the balloon inflates super easily! The only drawback of using these valves with the balloons is they do reduce float times slightly.
2) Mylar (or Foil) Balloons
Mylar balloons are more expensive than latex balloons, but there are some very good reasons why. They are no doubt higher quality balloons with a metallic look and feel, and has much larger imprint areas and far longer float times. Nothing grabs more attention than a cute, bright, shiny floating mylar balloon.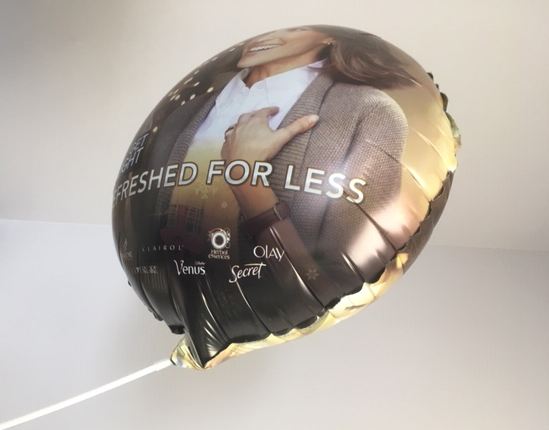 Difference Between Latex Balloons & Mylar Balloons
Mylar balloons, sometimes also called foil balloons, cannot be used with balloon cups and sticks. The image here is an example of what happens when you try to use mylar balloons with balloon cups and sticks. Unlike the latex balloons, which are stretchy and flexible, foil balloons do not affix very well onto the balloon cups and the end result is as shown in the picture – a partially flopped over balloon. Customized mylar balloons are at their best and most attractive when filled using helium gas and tied with string.
Be discerning when shopping for mylar balloons. Cheap, low quality mylar balloons are not necessarily the best deal, because those balloons will have very short float times and may have high levels of defects and pin-holes allowing air to escape. This completely defeats the purpose of customizing foil balloons in the first place.
When shopping for mylar balloons, try to find balloons with self sealing valves (a hugely convenient feature). Anagram foil balloons are constructed from a xlite composite material giving them a whopping 5 to 7 days of float time. In addition, you save a ton on helium too because mylar balloons uses 25% less helium per balloon. This fact allows you to fill up to 30% more balloons per helium tank, which in turn saves you approximately 22% on helium costs.
Our mylar balloons can be personlized in 4 different shapes – round, heart, star, and square. The first three shapes are 18" balloons, while our square foil balloons measure 22". They all come in almost every color imaginable, so finding the right color balloon for your promotions, event, or party theme is never going to be a problem.
3) Cloudbuster Balloons
And finally, we have our cloudbuster balloons, often also referred to as chloroprene balloons. These are made of super high quality latex that repels the sun's harmful ultraviolet rays and is up to 10 times stronger than regular latex balloons. Depending on the size of the cloudbuster balloons you order, float times can sometimes reach 3 weeks!
In general however, here is a quick guide to float times of our cloudbuster balloons:
4 feet – 4 to 5 days approx.
5.5 feet – 7 to 9 days approx.
8 feet – 18 to 21 days approx.
Cloudbuster balloons inflate to an almost perfect sphere and are so strong that they are used exclusively outdoors. They are non-customizable unfortunately, but a high flying, bright colored chloroprene balloon is a perfect marker for your business location or event even from a great distance! To make your set-up even more attractive, buy our colorful display pennants to go along with the balloons. Cloudbuster balloons are also sold with kits on our website, which will include the balloons plus 100 feet of display pennants and clear simple instructions.
We hope that the above descriptions of the three main types of balloons most common in the market today are helpful for you when shopping for your next party or event. If you need help buying balloons or have questions, feel free to reach out to us for an asnwer.