Start Marketing Your Business using Custom Beer Steins
Posted on November 27, 2019 under
Budget Friendly Promo Items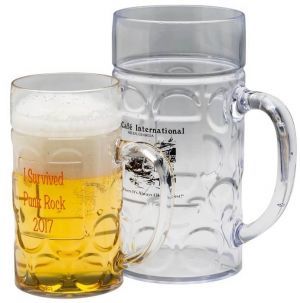 Beer steins are pieces of extremely gorgeous pottery combining outstanding durability and an incomparably stylish aesthetic. They are available these days in a wide range of designs to enhance the taste, aroma, and overall drinking experience of the brew contained in them. If you are looking for a piece of merchandise for your brand that is unique, classy, and functional, beer steins are the obvious choice.
Many of you may be aware of the fact that the word 'stein' hails from Germany. However, it doesn't really translate into the type of beer mugs used these days in other parts of the world. Traditionally speaking, these are drinkware items made from stone. However, nowadays, we have beer stains made of different types of materials including plastic and glass.
Regardless of the occasion, beer is traditionally known to bring people together because everyone loves beer. If you are a business owner, beer steins provide you an excellent opportunity to send these people back home with something that will keep your business in their minds for a long time. Most importantly, custom beer steins can be created without spending a lot of money.
If you have any advertising event, product launch party, or any other important business campaign, custom beer steins are a great way to attract the attention of the people present in the event. With your preferred design, message, and logo printed on them in bright colors, these items can easily add a unique appeal to the event. Moreover, there is no better way to put across your message to a selected group of people that are really important to the fortune of your business. Just by spending a small part of your annual marketing budget on them, these items can provide you a strong competitive edge over competitors.
Beer steins are also considered to be must-haves for the cool St. Patrick's Day or New Year party you are planning for your business. If you are the owner of a bar or restaurant, you can sell customized steins to your patrons, offering some innovative special deals such as discount on beer, etc. Needless to mention, this will be a big hit with anyone who loves beer. Beers steins can also be great as a promotional product to be sold as fundraising item. Regardless of how and where you decide to use them, this will completely change the way your customers, suppliers, and other stakeholders look at your business. In addition to business events, personalized beer steins are also perfect for all types of personal occasions.
The best part about customized beer steins is that you can order them in bulk for extremely affordable prices. Depending on your marketing budget, you can choose from plastic and glass steins in different designs and styles. If you are on a shoestring budget, plastic beer stains can be a great choice for you. Also, don't hesitate to be creative because the idea behind these drinkware is to make your business look different from others.
Some of our most popular Beer Steins: