Mis-Registration Issues with Custom Balloons
Posted on May 26, 2017 under
Custom Printing Tips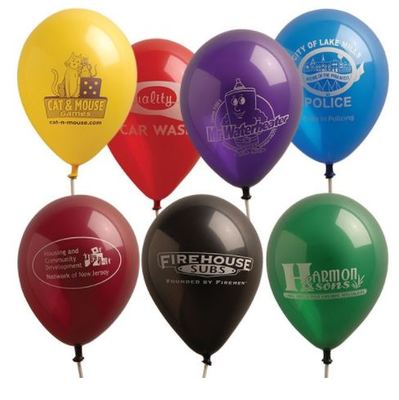 Many customers have beautiful logos or designs that they are super eager to get printed onto promotional giveaways like custom latex balloons. There is a huge variation in how logos are designed – sometimes they are designed in 1 single solid color, sometimes, they could be 1 color but the logo or artwork contains gradients, shadings, or shadows, and at other times, they are designed in 2 colors or more. Very often, we also get logo or brands designed in full color. Because screen printing can be a complex process, its processes and what is possible and what is not, is not immediately apparent to many people. But don't worry! That is what we are here for, to guide you through the process, so you can very easily place your order with a few clicks and you will always get the best customized balloons for your event at the very best prices!
For a product like custom balloons, we always tend to encourage customers to print their logos or artwork in just 1 single solid color – for example, yellow balloons with black ink – this means that the entire logo or artwork will be printed in just black ink color onto yellow personalized balloons. Take a look at the main picture of this article – that black artwork on the yellow logo balloon looks really nice, but that was originally a multicolor logo that we had our very talented graphic artist convert into a 1 color logo so it can be printed in a very appealing way onto the yellow balloons.
Benefits of 1-Color Printing on Personalized Balloons
There are many benefits to just printing your logo in 1 color. Sure, a multi-color print may be more colorful and may look a little prettier. But multi-color prints can have serious mis-registration issues - and this is true not just for us, but for ALL balloon vendors who do screen printing. Because promotional balloons have a non solid, convex surface, the registration can shift up to 1/8" in any direction. We will usually only recommend multi-color printing in situations where your logo has a separation of at least 1/8 of an inch between the different colored elements. We also recommend multi-color printing on balloons with lighter background colors as opposed to darker colored balloons. Very often, some colors do not appear well on darker colored balloons – for example, printing red on dark blue logo balloons will have the red sometimes showing up looking a little "rusty" when the balloon is blown up. Again, when you place your order, we will always look at these things and we will advise immediatelye if we see that something will not print well.
Take a look at the illustrations below for possible mis-registration scenarios for imprinted balloons. The more colors your logo contains, the more complex the artwork is (where the different colored elements "touch"), the more obvious the mis-registrations could become. The illustration showing the green monster is an example of a more complex design. There are 4 colors in this artwork – green, yellow, blue, and black. We can certainly print this design onto our custom balloons, but every imprinted balloon may be different, as the 4 colors could shift us to 1/8" in any direction on any given print as you can clearly see from the examples below.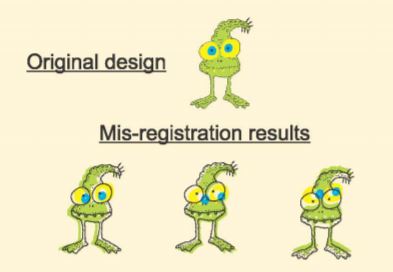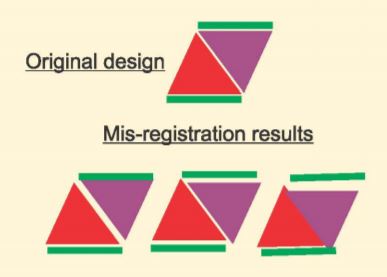 Any logos can be easily converted to a 1 color logo; we are experts at doing that and have done thousands and thousands of logo conversions for countless customers, who have almost always been so happy with the end results! Most of the logos in the main picture you see in this blog article originally had more than 1 color and some were even full color with gradients and shadings. You can judge for yourself - they all turned out quite well! Moreover, 1 color printing is the cheapest option by far, and will always have very satisfactory print results without any mis-registration headaches!
For this reason and others of course, many bigger companies always have 1 color versions of their logos, so they can do screen printing on their marketing promotional giveaways.
In our next article, we will focus more on half-tone printing and full color printing on custom balloons.