Don't Forget Customized Baseball Bats for this Baseball Season
Posted on April 15, 2017 under
Giveaway & Promotional Ideas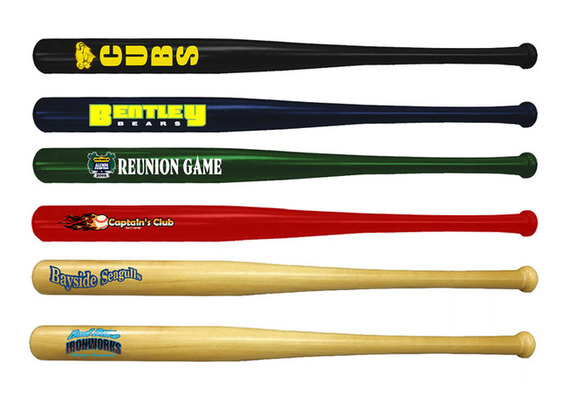 Major League Baseball season usually starts at the beginning of April and ends at the start of November each year. If you are planning on doing any sort of promotions or marketing efforts to attract the millions and millions of baseball fans around the country, don't ever forget to check out Promotion Choice's big and unique selection of customized baseball bats and promotional baseballs. Since there is so much to talk about regarding printed baseballs and personalized baseball bats, this article will focus mainly on our selection of bats.
Promotion Choice currently carries five types of customized baseball bats, and we have them all listed in detail below:
Louisville Slugger Bats
These are our premium authentic and genuine custom Louisville Slugger bats. They are made in the United States of America and is constructed of real wood. Each piece is finely crafted to perfection guaranteed to make even your most fanatic baseball fan ecstatic! They come in the original full size – 34 inches or a mini version at 18 inches (measured along the length of the bat from one end to the other). Each bat can be personalized either with a 1 color pad print or for a more elegant look, they can be laser engraved.
Wooden Baseball Bats
For a similar look and feel as the personalized Louisville Slugger bats, you can get our generic wooden imprinted baseball bats at a fraction of the cost! Finely crafted in China from real wood, these wooden baseball bats have gone through strict quality control to ensure that even those on a tighter budget looking for a more economical alternative will get a quality product. These printed baseball bats come in two similar sizes as our premium Louisville Slugger bats at 18 inches and the full sized 34 inches.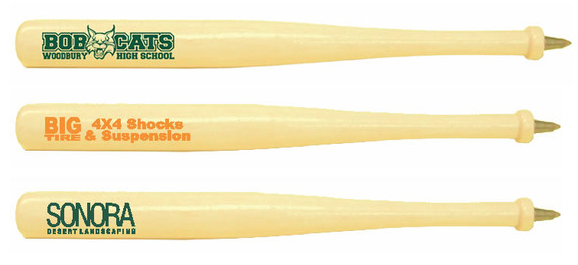 In addition, we also have wooden custom baseball bat pens that measure 8 inches, and logo baseball bat keychains that are slightly smaller at 4 inches. These are both very popular items for those wishing to promote and market to baseball fans, as they make perfect keepsakes or memorabilia for any events.
All the above items can be personalized at Promotion Choice in one of three ways – one color pad printed, laser engraving (for a touch of class!), and full color printed (so even a photograph can be imprinted nicely via a very discrete decal onto any of these wooden baseball bat products.
Logo Plastic Baseball Bat and Ball Set
For something truly unique, go with our plastic imprinted baseball bat with ball sets. These orange plastic bats are domestically made in the USA and measure 28 inches in length. The accompanying plastic ball is 2 7/8 inches in diameter and it along with the bat can both be personalized with any logo or message via pad printing imprint method only. The plastic ball is pretty light weight, so it will not smash any windows (although we wouldn't encourage you to try too hard!), and the plastic bat itself is also much lighter than our wooden bats. These are popular with customers who prefer something more economical and "safer" for an indoor environment where it would be safe to bat balls around for practice or fun!
Although only one print method (namely pad printing) is allowed for this style of baseball bat with ball set, we can do up to two spot color printing for this product, and again, both the ball and the bat can be imprinted up to two colors each.
For more detailed information and more pictures, check out of printed baseballs page where you can see all our styles of custom baseballs and customized baseball bats for sale. Don't let your marketing opportunities slip away this baseball season!