Do too many Keychains hurt your ignition?
Posted on January 30, 2020 under
Budget Friendly Promo Items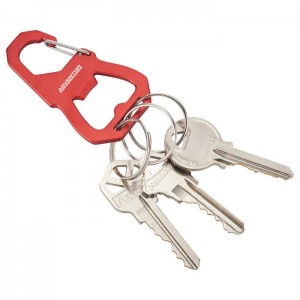 A person's attraction towards owning material objects like vehicles, properties, businesses, etc. has led to an increase in several keys they have to handle. And rather than organizing, most people put all these in one single key-hoop. Some might have a habit of misplacing keyrings and keys. You can open the house doors and drive your car with this. But remember this could adversely affect your car ignition.
For all those people, who think they can get away with stocking multiple keys in one keychain: Heavy keychains do affect the car functioning.
You heard it right, it is not a myth.
Using this loaded pile to operate your car can have a huge toll on its mechanism. You and your car are under serious awakening if your car keys are a part of the overcrowded keyring.
Dreadful Effect On Your Cars
Your car might not show objection in initial days, but the long-term outcomes are certainly not healthy. The weight of the keychain pulls at the ignition mechanism and gravity does the rest. With every bump and pothole, rise and fall; your car ignition could get worse with each passing minute. This extra pressure on the ignition chamber and tumblers takes your car towards breaking down. These worn-out parts will get incompetent and you will not be able to control or access the ignition system. After the obvious abrasion and depreciation, you will start facing occasional problems with your automobile. And the weird part is that most users are not even aware of their keychain being responsible for their vehicle issues. The roadside assistance from passerby or mechanic will be your saviour on such events. You will have to pay substantial bills to get your car repaired.
How Does This Happen?
Well, it's a slow process, but it certainly hinders the functionality of your car, without even letting you know. It happens, as gradually the tumblers present in the ignition and ignition lock starts deteriorating. It is highly recommendable to put only one key in your ignition keyring, especially while driving. Your ignition switch should not be crowded with unnecessary keys. You can assess the deteriorating state of your car's ignition when the keys do not respond in a go. In such situations, your car starts only after you twist your ignition key at least twice. Don't wait until your key starts rusting, as soon as you find your key worn out, get yourself a replacement key. Wearing out of key is quite normal and it will definitely happen after a long term usage. Although, if it shoves the excessive weight of multiple keys, then possibly this process will get fastened. When you realize the deterioration of your tumblers, then get it replaced quickly, as delaying till it completely fails would cost you massive bucks. Also, you might find yourself in a situation completely unaccompanied on a stranded path.
What Weight Can Cause Damage To Your Car's Ignition?
Many buffs believe that your ignition keyring can hold a weight of fewer than 9 keys. However, some agree that during the resting time, not more than 3 pounds should be loaded on your car's ignition. There are no specific standards, however, you should examine the weight yourself and if you feel it heavy then get rid of some not required items on your ring.
Resolutions To This Problem
The most logical resolution to this problem is releasing the weight of your keychain. Let your car key rule in the ignition, when the car is in on-mode. It is important, as, during on-mode, your car undergoes back and forth movement which imposes downward pressure on the key ring. In a case, where you need to entangle all the keys in one ring, then get yourself a keychain which has detachable features. Such keyrings allow you to use a particular at a specific time.
Also, if you will have separate keyrings for separate usage, then you will get a chance to sort keys easily. It will solve your trouble while finding out the key as well as release the weight on your ignition. Not just that, but a light keychain can also help in reducing the pressure on your ignition.
Necessities Of Your Car's Keychain
The very first things that needs make it's ways apart from your ignition key ring are extra keys. There is no need of such rings, your plane car key and alarm remote of your car would do. If you are one of those who throng their keychains with club member cards, keys, knives and much more, then get yourself a detachable keyring, so that your ignition should not suffer any strain.
Take a look at our keychains or our carabina keyring to solve this problem.