Choices Aplenty With Personalized Cocktail Napkins at Promotion Choice
Posted on May 13, 2017 under
Custom Printing Tips

When you want to host a party, be it a wedding, birthday, house warming, or a larger corporate style event, there will inevitably be food, drinks, cocktails, Hors d'oeuvres, etc. With beverages, finger foods, and other edible options, napkins are going to be indispensible.
With all the effort you put into planning a party, making sure it is an unforgettable event, why not think about making it an even grander and more memorable event by getting some branded napkins? Don't use just boring blank napkins with no logos or text message to "memoralize" your event; make sure you get your napkins printed with your company name or event message. For very little money, this can happen if you let Promotion Choice help you! We are experts at branding all napkin styles with your logo, artwork design, or text message!
Of all the napkin styles we offer – personalized cocktail napkins, custom luncheon napkins, imprinted dinner napkins, logo dispenser napkins, and promotional linenesque napkins (which are napkins with an almost linen like feel), the most popular choice by far would be the personalized beverage napkins, also known as the custom printed cocktail napkins. These promotional cocktail napkins measure 5 inches by 5 inches when folded, are versatile, classy, yet very economical. They are certainly our customers' favorite napkin choice, who would use them not just for holding beverages, but also for serving finger foods with, or they can even be used as a coaster!
Different Printing Methods for Printing Cocktail Napkins
Our personalized cocktail napkins are made in the USA and are compostible. They come in abundant color choices and can be imprinted in a variety of methods. While the vast majority of our customers choose to have their promotional beverage napkins screen or pad printed, other imprint methods deliver lovely results as well, and can even suit your unique needs even better! Other imprint methods includes foil stamping, debossing, and embossing. A picture illustration below clearly shows you the look of each of these imprint methods. A total of 4 imprint methods altogether for our customized cocktail napkins.

Screen or pad printing offer more variety of ink color choices. Foil stamping is limited in its choices of foil colors. You can see a list of foil color choices we have available below. Embossing and debossing does not involve imprinting with any colors at all – rather, it is simply making an indentation (debossing), or "outdenting" the paper napkin (embossing) – these two print methods can be rather elegant. Whatever your choice of imprinting, we are able to fulfil your requests perfectly, and you will be happy with the end result of your branded beverage napkins. We have many many years of experience under our belt and handled millions upon millions of napkins, so rest assured that your order is in very good hands. Should your artwork be unsuitable for any sort of imprint method, we will notify you immediately. For example, artwork with lots of fine details and small text is usually not good for foil stamping, embossing, or debossing. Screen printing or pad printing will deliver the best (although still not perfect) results for artwork designs with fine details. Even with regular screen or pad printing, smaller fonts or details in your artwork might still fill in, so our advise is to always enlarge details and use bolder fonts when printing on personalized cocktail napkins.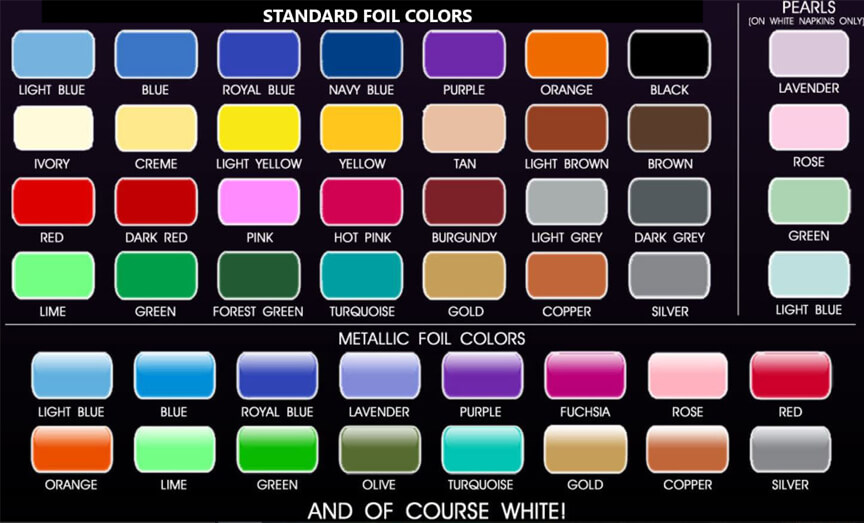 So if you have an important event coming up, call Promotion Choice today for a free consultation on how you can get some personalized cocktail napkins going, so your event is one that your guests will remember for a long long time!