Branded Multi Tools and Screwdrivers
Posted on December 20, 2019 under
Budget Friendly Promo Items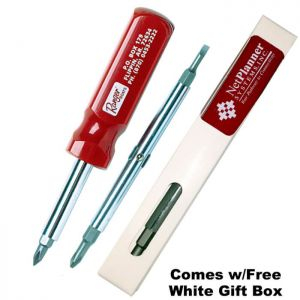 One of the major ways to increase the sales of the organization is to grow its brand audience with the help of creating various innovative advertisements, campaigns, and promotional items that can help in increasing the awareness of your brand among the people. If your organization has a business that is related to any kind of hardware, then these customized multi-tools and custom screwdrivers can give an ample amount of advantages to your company.
These personalized multi-tools and personalized screwdrivers can prove to be an excellent pocket-size giveaway for occasions like trade events, store openings, and other promotional events. Your brand signifies the reputation of your organization in the market. These customized tools are the techniques that can help you in increasing the branding image and its visibility.
Custom Screwdrivers
Personalized screwdrivers are those tools which are manually used for screwing or unscrewing the screws. It has a handle made up of plastic and a shaft attached to it, that is comprised of steel. It is provided with a tip at the end that is used for handling hardware issues.
Personalized screwdrivers are the best when it comes to doing the marketing of a brand. These promotional items can be kept in every's household's toolbox, with your brand's logo embarked on it.
Custom Multi Tools
The custom multi-tools are very suitable to carry while you are traveling as it is small, handy, and compact. The custom multi-tool consists of pliers, knife, screwdriver, bottle opener, saw, and scissors. These types of multi-tools are designed for emergency purposes like if someone has gone for hiking, then it is recommended to carry this multi-tool as it will be easy for them to cut off the bushes in their path.
The custom multi-tools are very easy to carry and serves different purposes at the same time and can also be used as keyrings. These personalized multi-tools can also serve the purpose of advertising your brand if you gift these to your potential clients and customers by embarking the logo of your brand on it.
Usage of Personalised Screwdrivers & Custom Multi Tools
Personalized screwdrivers are generally used for purposes like screwing or unscrewing the nails on the walls, tables or chairs, etc. A custom screwdriver comes with a straight diametrical slot which is stretched across its head and a flat steel tip on the front. The custom screwdriver is comprised of tough steel shank with a steel tip to minimize wear and tear, and it has a plastic handle. These are available in a wide range of colors like orange, white, yellow, black, red, light green, dark green, etc.
As personalized multi-tools are comprised of various tools, and hence it can be used for multiple purposes like opening a bottle, cutting off thin wires and pages, and for tightening small screws. These custom multi-tools are available in a very vast range of variety like 8-function stainless steel knife, 13-function stainless steel pliers, deluxe multi-tool, etc. Apart from that, these multi-tools are also available in the kit like 11 pieces collapsible tool set with stand, 23 piece tool set and 26 pieces deluxe tool kit, etc.
Benefits of the Branded Multi Tools and Branded Screwdrivers
These personalized screwdrivers and branded multi-tools are the best as promotional gifts for marketing events, hardware stores, utility services as well as for the electrical shops. When your business deals with the hardware or electrical components, then it becomes tough to publicize it with a low budget. Therefore, in such cases, these branded multi-tools and branded screwdrivers can be used to advertise about a particular brand by imprinting its logo on it.
There are also some other benefits which include.
1) Availability of space
If you are going for a travel and you have a restricted space, then the multi-tools and a screwdriver are the best options for you as they don't require much space.
2) Cost-effectiveness
These multi-tools, as well as the screwdrivers, are available at affordable rates. If you purchase all these tools separately, which are contained in the multi tool kit, then it can cost you a high amount.
3) Reduction of weight
If you carry single tools like pliers, scissors etc., they are heavy as well as occupy more space. Therefore instead of these, it is convenient to carry a single multi tool kit. On the other hand, these branded screwdrivers are small in size and also occupy less space.
If you wish to give this as a gift to your patrons, team, or suppliers, you can check the complete range of personalised multi-tools and branded screwdrivers.