Are paper or plastic bags better for the environment?
Posted on January 6, 2020 under
Budget Friendly Promo Items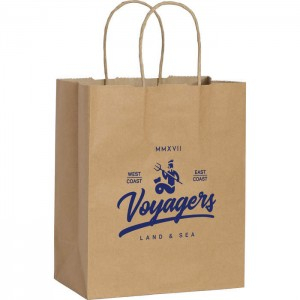 There are some distinct products employed for the bagging of purchased items in the store. They are inclusive of paper bags, plastic bags, and cloth bags. Whereas cloth bags are more costly and used mostly for high purchases, paper, and plastic bags, on the other hand, are cheaper.
Paper bags
Paper bags are no new features in major cities, where shopping for groceries is a common phenomenon. They should have been called grocery bags rather than the brown paper bags terminology, which has followed them for centuries now.
This whole time, the paper bag idea of 1844 AD has seen patents more times than one, resulting in better and stronger designs, some of which are known to carry up to 70 pounds of goods, raising its market popularity and stamping it as the No.1 shoppers carry bag.
Importance of paper bags
Apart from their most popular usefulness carrying groceries, paper bags have other unfamiliar uses as well.
Paper bags when torn open and bunched up are great for cleaning glass and other reflective surfaces such as mirrors
They make good filters, even funnels
They are used to serve snacks at events, and to pack lunch for students
Some fruits tend to ripe faster when wrapped inside paper bags
They are used as materials for art projects, cut up, or spread open
These are some of the many importance of paper bags. They are reusable, and where not, are recyclable. Because paper is made from trees a renewable resource, it is expected to be readily biodegradable. It is. However, paper bags may not be as environmentally friendly as commonly believed.
Plastic bags
Of similar importance for bagging purchased items at the store are plastic bags. While they haven't been in existence very long, their usefulness has somewhat caught up to that of paper bags.
Plastic bags made from non-woven polypropylene and polythene bags are all nonrenewable. They are known not to be so biodegradable, taking up to 10,000 years or more to decompose a single polypropylene bag. For this sole reason, plastics are considered environmentally unfriendly. They are contributors to a small, yet risky part of the world's substantial waste volume and generation. Despite so, their various usefulness often makes up for their uselessness.
Importance of plastic bags
Plastic bags since coming into the scene as a Canadian invention over 50 years ago have contributed immensely to ease out the tensions that demand was putting on paper bags.
Plastic bags are used to bag even items that paper bags can't carry, either because of their excessive weight or for the simple reason of it being an inappropriate container. A load of textbooks, large ones, or specific handy tools, for instance, won't be conveniently fitted into paper bags as they would into plastic bags. Even larger paper bags, most times, can be problematic. They don't just perform the task well.
Paper or plastic, which bag is better for the environment?
Every disposable item indeed has an environmental impact. As much as we would love to imagine the subject, we must take care not to confuse emotional reasons with the facts. Science is a fact; we must base our conclusions around it in dealing with the topic.
Some comparative life-cycle analysis understudy in Europe and North America was conducted particularly to end the eternal debate between paper and plastic bags over which has more GWP- global warming potential.
While you can make custom tote bags from both of these materials, let's take a look first at paper bags, made from paper, the readily biodegradable produce from a renewable source like trees. When the paper is made, a lot of energy and water is consumed. So we say it is very resource-intensive. This energy is usually soaked up by the atmosphere to increase the GWI- global warming index.
Now it's time to analyze plastic bags, most of which consist mainly of polyethylene. They are made up of ethane, a byproduct of the gas refining process. Ethane is extracted and collected, leaving a more usable gas like the ones used in our homes. The ethane is then used to make plastic bags. This process shows a considerably lower GWI and, consequently, a lower GWP.
Let us list these differences to see which bag has a less environmental impact and is better for the environment
While paper bags are readily biodegradable, plastic bags don't decompose quickly. Paper bags get the first advantage
Paper bags are resource-intensive, during manufacture, requiring more energy and having more GWP, plastic bags require lesser power, and have a reduced GWP. Here plastics have the advantage.
Paper also has a lower reuse potential than plastic bags because they tear easily, or get wet. Once this happens, they are dumped. Plastics, on the other hand, last longer, get a few more reuses, lowering their environmental impact. Again, advantage plastics
On waste, papers contribute significantly to the global waste volume, much more than plastics. This has some connection to its failures having lesser reuse potentials. Plastics wins again
On recycling, both are recyclable, but paper bags are the most recyclable. And as such gains the advantage here
So in conclusion, paper bags, as well as plastic bags, are both handy for bagging. They both have environmental impacts contributing energy to increase global warming. They are both recyclable yet contribute to the global waste stream, increasing global waste volume to what it is now. Fair for the paper, it is highly biodegradable while plastics are not. But according to scientifically proven facts, plastic bags are the slightly better option having a lesser environmental impact and contributing smaller problems for global waste disposal.