All Types and Colors of Custom Basketballs
Posted on June 22, 2017 under
Product Guides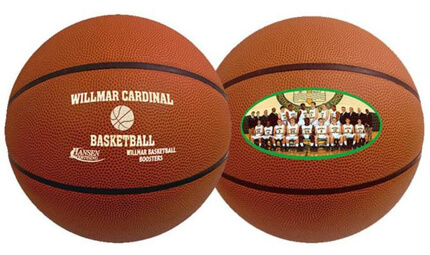 Custom Basketballs for Every Promotional Need
Basketball season is a fun time and the millions of basketball fans present many marketing opportunity for marketers and businesses to promote their brand or message. Because our potential customers have varying needs and budgets, Promotion Choice has very carefully sourced and researched the best types of custom basketballs that will appeal to the basketball world and their fan base! Every one of the personalized basketballs on our website will be a hit! There is no right or wrong choice – you just need to pick what best suits your event's needs, and you can rest assured that whichever customized basketball you pick, your customers are going to love them!
Different Sizes and Colors of Printed Basketballs
Our basketballs come in varying sizes. Most popular are the mini basketballs, largely due to budget concerns. Our smallest and most economical basketballs are of course the custom foam stress basketballs. These are the super squeezable logo basketball stress relievers in the design, color, shape of a basketball, and measures approximately 2.5 inches in diameter. Next up would be our promotional mini vinyl basketballs that are about 4 1/4" diameter (although because they are inflated with air, sizes could vary between 4" to 5"), and people usually buy these to throw out at parades or to simply hand them out a memorabilia at parties or events. The custom mini vinyl basketballs come in 16 different colors – so you will never run out of choices there!
Other mini logo basketballs we carry are the mini signature basketballs which have either one or 2 white panels (depending on your preference), which are also known as printed autograph basketballs for collecting signatures and the mini rubber basketballs. The custom signature mini basketballs are popular with school basketball teams for team members to collect signatures to remember each other by. They are also great for events where fans can use for collecting signatures for visiting NBA basketball stars! This style of imprinted basketball measures approximately 5" across. The cheaper alternative, which is our customized mini rubber basketballs measure roughly 7" across and comes in solid orange, red, white, and blue, red and white, and also blue and white. The bi colored versions are new and came into our inventory due to popular demand!
And finally, we have the regular full sized custom basketballs, which are about 29.5" in circumference or approximately 9.4" in diameter. This is the standard regulation size basketballs that can be used for actual playing of the game (although we cannot guarantee that the imprinted logo on basketballs will actually stay on after playing especially when played with on damp grounds). These are really popular with our customers, and the most budget friendly ones are the logo rubber basketballs, followed by the printed signature basketballs and synthetic leather basketballs (both versions are the same price), and then our top of the line genuine promotional Wilson basketballs. Our custom Wilson basketballs are also available in the autograph basketball version, where half of the ball is white for collecting signatures.
With all of these incredible choices, you will never run out of basketball promotional ideas when you shop at Promotion Choice for custom basketballs. And don't forget our branded basketball accessories as well! We have cardboard retail display cases for holding each full sized logo basketball individually or a higher end acrylic display case. These display cases will make your gift of print basketballs to your customers that much more attractive!