11 Custom Print Methods We Use for Promotional Giveaways at Promotion Choice
Posted on July 23, 2019 under
Giveaway & Promotional Ideas
No Print: This means there will be no customization or printing of any sort. For certain products like our Church Hand Fans, Wedding Hand Fans, or Political Hand fans, the front will have the stock image, but the back of the fans will be left blank.
Customized: This "Print Method" usually involves screen printing or pad printing by laying down paint or ink. Most effective for solid color logos with no gradients or shadings. Logos with gradients or shadings or photographs can still be printed using such print methods via halftone printing.
See below illustration for spot printing from 1 ink color to 3 ink colors:

If you are printing more than 1 ink color, particularly on Custom Balloons, mis-registrations between the colors could occur.
Full Color: This involves using CMYK inks (Cyan, Magenta, Yellow, & Black) to replicate all colors across the spectrum. Best for printing multi-colored logos or photographs. Logos or artwork could be printed in full color using any of the print methods listed below that will best suit the product you are ordering. Please make sure to scroll down the product page to the description area to read more details about each product. In most cases, we will list the method of imprint for each product. You can also call us to inquire.
Full Color Direct: Ink is printed directly onto the product. Most of our smaller sport balls, stress balls, toys, office and school supplies, luggage tags, and bags are printed using this print method. When the full color print method is not specified in the description are of the product page, it will most likely be a full color direct print. If you are particular about the print method, please call to inquire.
Sublimation: Full color artwork printed onto transfer paper which is then heat pressed to permanently transfer the full color art directly onto the product ordered. A very robust print method that ensures a good print that won't crack or peel over time. Our custom full color printed table covers and can coolers are printed using dye sublimation.
Heat Transfer: Full color art is printed onto a transfer material, which is then permanently adhered to the product with heat. Most of our full size sport balls are printed this way if full color is selected.
Labeling: Full color art is printed onto a decal which is then adhered onto the product ordered. Many custom lip balms or custom hand sanitizers are printed this way if "Full Color" print method is selected.
When printing in full color, just list "Full Color Print" in the List Ink Color(s) Box in the order form. See illustration below for what full color looks like vs spot printing shown above:

Foil Stamping / Hot Stamping: Printing by permanently adhering colored foil or pre-dried inks onto product ordered using high heat. See illustration of black foil on a napkin below:

Deboss/Emboss: This is the process of creating raised (emboss) or recessed (debossed) images, usually on our custom napkins. See illustrations below – left picture is embossed, while right picture is debossed: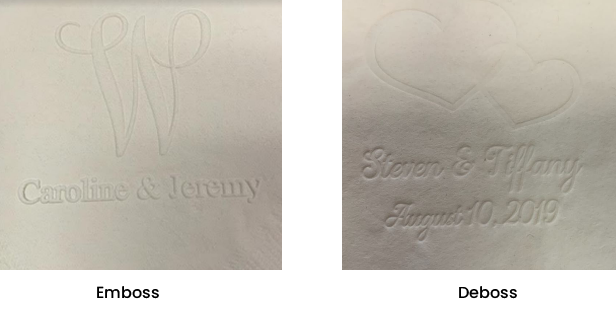 Embroidery: Traditional method of decorating product with needle and thread. See illustration below. Most custom blankets we sell offer this method of decorating.
Epoxy Dome: Add dimension and shine to your artwork or logo by placing it under a clear, high-gloss polyurethane dome with black bezel. Logos are maximized for the best possible display and then placed on a white background unless otherwise specified. See illustration below: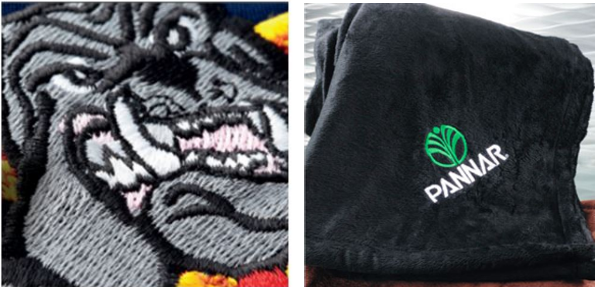 Etching: This print method usually uses laser to precisely etch your artwork or logo into the material's surface to give your logo a clean, distinguished appearance.